Your guide to understanding LifeCare®.
At a Life Plan Community, also known as Continuing Care Retirement Community (CCRC), like Trillium Woods, your services, amenities, indoor and outdoor maintenance and dining are covered by your monthly fee.
What is LifeCare and what makes it so unique? Trillium Woods is the only community in the Plymouth, MN area to offer true LifeCare. LifeCare is a contract option only offered by select communities. Because of LifeCare's limited availability, there can be a lot of questions about it. What are the financial planning benefits? What is covered by the costs? How does it work with the rest of your retirement plan?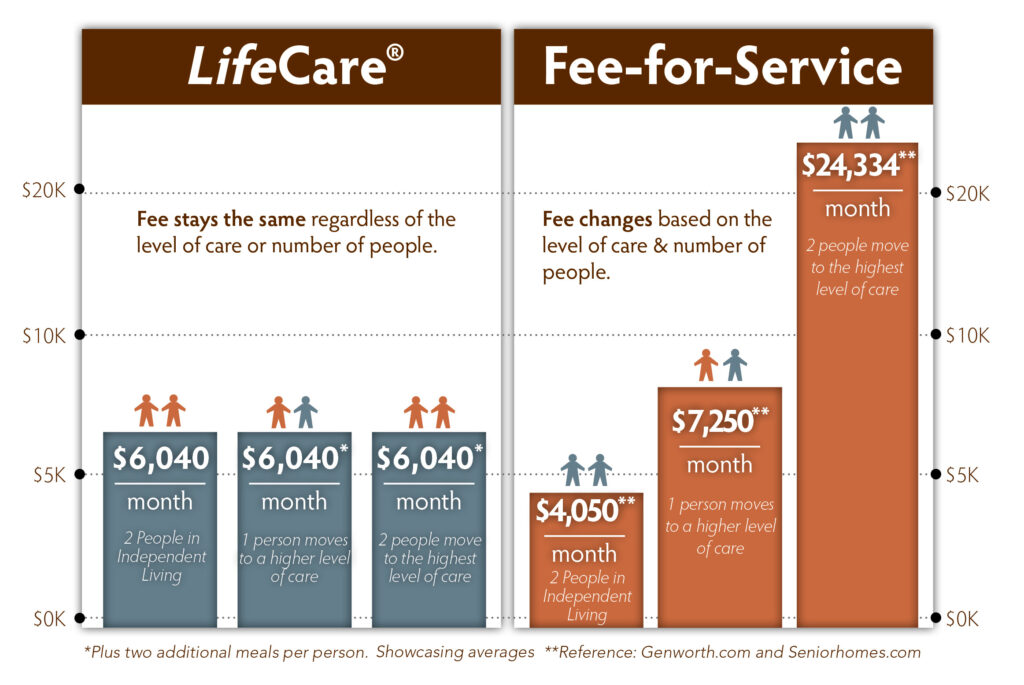 "We came to Trillium Woods BEFORE we had to. WE chose our beautiful surroundings, our keepsakes, our health care, our lifestyle — our future."
— Barbie and Tony Andreason, residents
At a LifeCare community, you pay an entrance fee, which is partially refundable to you or your estate. You also pay a monthly service fee, which we'll explain below. Type A contracts generally have guaranteed access to all levels of care at predictable rates, for life, at below-market rates for any care you need. And if you or your spouse needs different levels of care, you'll often still just pay one monthly fee. Your only additional expense would be the cost for any additional meals.
A recent nationwide study by the MatherLifeWays Institute on Aging shows that Life Plan Communities like Trillium Woods offer a variety of opportunities to help residents improve their overall well-being. In fact, one of the study's initial findings shows that community residents are much more likely to engage in physical activities than older adults living at home.
What is an entrance fee?
An entrance fee is a one-time, upfront fee you pay to move into the independent living part of a senior living community. The amount you pay will depend upon the size of the residence you choose and the number of people living in the residence. At a LifeCare community, generally a portion of your entrance fee is refundable to you or your estate.
What are monthly service fees?
Monthly service fees are paid every month to cover the community's services and amenities. Like the entrance fee, the amount you pay usually depends on the size of your residence and the number of people living there. The range of services and amenities available to you can also affect your monthly service fee.
Your monthly service fee includes:
All maintenance, both inside and outside your home
Regular housekeeping, including flat linen service
Includes all utilities except for internet and telephone
Scheduled transportation to events, shopping, medical appointments
On-site 24/7 security
Emergency response system
These types of amenities are also included:
A dining plan with a variety of dining choices and chef-prepared meals
Access to our fitness offerings including our indoor pool and state-of-the-art fitness center with full-time NIFS instructor
Use of our auditorium with regularly scheduled performances, walking, hiking and biking trails, Minnehaha Pub, woodworking shop, arts and craft classes, and more
A full monthly calendar of outings, activities, events, resident committees, etc.
When it comes to paying for senior living, at Trillium Woods we have a lot of options available, so we're sure to have something that fits your lifestyle and your budget. To see how your current lifestyle measures up to the value of Trillium Woods, use our Cost Comparison Calculator.